Oct
28
Oct 28, 2014
8:30pm EDT - 9:00pm EDT
Add to calendar
2014-10-28 20:30:00
2014-10-28 21:00:00
America/New_York
September Volunteer Conference Call
<p> </p> <p>These <strong>monthly all volunteer calls</strong> are for all Represent.Us Chapter leaders, members, and other interested volunteers to review exciting campaign updates and look ahead with our organizing plans. We suggest you organize chapter meetings around this time, so everyone can call in as a group.</p> <p> </p> <p><em>On this call, we'll be debriefing our Growing the Grassroots month-long drive for small business endorsements. If you'd like to share an experience that you've had gathering endorsements, please let your organizer know in advance. </em></p> <p dir="ltr"><img src="https://dv9jgklhamlge.cloudfront.net/wp-content/uploads/2014/09/petitioningboston.jpg?053245" alt="" width="640" height="427"> </p> <p dir="ltr"><strong>Dial-in information:</strong> It's best if everyone could sign-in online, so you can view the screen as we discuss our documents. Click the link below and you will be prompted to enter the passcode and your phone number. The service will call your phone number and connect you to the meeting.</p> <p>  </p> <p dir="ltr">Online Link: <a href="http://volunteer.represent.us/r?u=https%3A%2F%2Fsecuremeeting.meetinghub.com%2Fw%2Fpub%2Fentry%3Fhcid%3D1605364%26loc%3DEN&amp;utm_campaign=save_the_date_2&amp;n=1&amp;e=54ce1fa176f3a117091b65ccf9b174d0c8770198&amp;utm_source=representus&amp;utm_medium=email&amp;e=5e78cafb995d1161f68a215952f144c695db3b26&amp;utm_source=representus&amp;utm_medium=email&amp;utm_campaign=confcall7_29&amp;n=5">JOIN AS ATTENDEE</a></p> <p> </p> <p dir="ltr">Please join 15 minutes before the start time to get situated.</p> <p> </p> <p dir="ltr">Web Passcode: <strong>246660</strong></p> <p> </p> <p dir="ltr">If you do not have access to a computer, you can call in the old-fashioned way.</p> <p> </p> <p dir="ltr">Dial in number: <strong>1-719-457-6209</strong></p> <p> </p> <p dir="ltr">Participant Passcode: <strong>246660</strong></p> <p> </p> <p><strong> </strong></p> <p> </p>
These monthly all volunteer calls are for all Represent.Us Chapter leaders, members, and other interested volunteers to review exciting campaign updates and look ahead with our organizing plans. We suggest you organize chapter meetings around this time, so everyone can call in as a group.
On this call, we'll be debriefing our Growing the Grassroots month-long drive for small business endorsements. If you'd like to share an experience that you've had gathering endorsements, please let your organizer know in advance.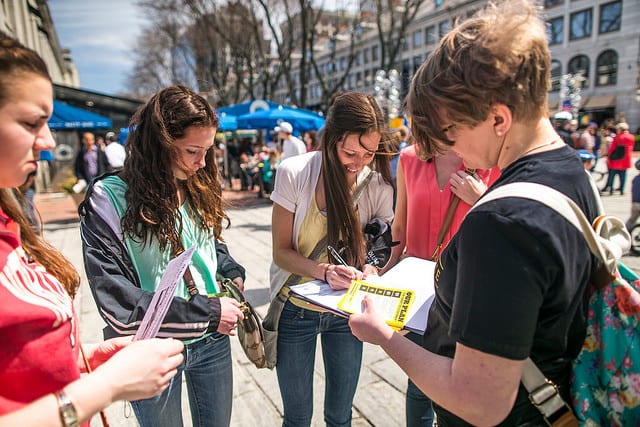 Dial-in information: It's best if everyone could sign-in online, so you can view the screen as we discuss our documents. Click the link below and you will be prompted to enter the passcode and your phone number. The service will call your phone number and connect you to the meeting.
Online Link: JOIN AS ATTENDEE
Please join 15 minutes before the start time to get situated.
Web Passcode: 246660
If you do not have access to a computer, you can call in the old-fashioned way.
Dial in number: 1-719-457-6209
Participant Passcode: 246660