Jul
20
Jul 20, 2016
8:30pm EDT - 9:00pm EDT
Add to calendar
2016-07-20 20:30:00
2016-07-20 21:00:00
America/New_York
On-Call Intro to Phone Banking Training
<p>Together, we're going to fix America's corrupt political system. On this call<span>, we'll teach you to use the Represent.Us Dialer system to talk to people across the country. By the end of the call, you'll have the skills you need to support statewide anti-corruption campaigns no matter where you live.</span></p> <p>The call is at 8:30pm ET / 5:30pm PT.</p> <p><img src="https://dv9jgklhamlge.cloudfront.net/wp-content/uploads/2014/09/petitioningboston.jpg?053245" alt="" width="640" height="427"></p> <p><em>You will receive a confirmation email with the log-in information once you RSVP for the training. Thank you for taking your first step to fight corruption. </em></p>
Together, we're going to fix America's corrupt political system. On this call, we'll teach you to use the Represent.Us Dialer system to talk to people across the country. By the end of the call, you'll have the skills you need to support statewide anti-corruption campaigns no matter where you live.
The call is at 8:30pm ET / 5:30pm PT.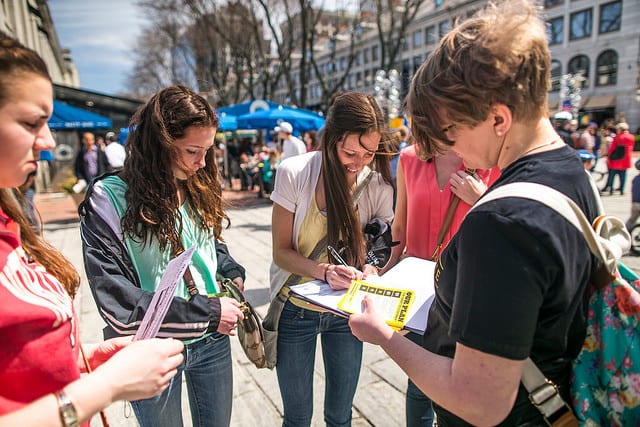 You will receive a confirmation email with the log-in information once you RSVP for the training. Thank you for taking your first step to fight corruption.