Aug
11
Aug 11, 2016
8:30pm EDT - 9:00pm EDT
Add to calendar
2016-08-11 20:30:00
2016-08-11 21:00:00
America/New_York
On-Call Messaging Training
<p>Together, we're going to fix America's corrupt political system. On this call, we'll review our first call script for voter persuasion calls and make sure you feel comfortable with the content and flow of these critical calls.</p> <p>By the end of the call, you'll have the skills you need to support statewide anti-corruption campaigns no matter where you live.</p> <p>The call is at 8:30pm ET / 5:30pm PT.</p> <p><img src="https://dv9jgklhamlge.cloudfront.net/wp-content/uploads/2014/09/petitioningboston.jpg?053245" alt="" width="640" height="427"></p> <p><em>You will receive a confirmation email with the log-in information once you RSVP for the training. Thank you for taking your first step to fight corruption. </em></p>
Together, we're going to fix America's corrupt political system. On this call, we'll review our first call script for voter persuasion calls and make sure you feel comfortable with the content and flow of these critical calls.
By the end of the call, you'll have the skills you need to support statewide anti-corruption campaigns no matter where you live.
The call is at 8:30pm ET / 5:30pm PT.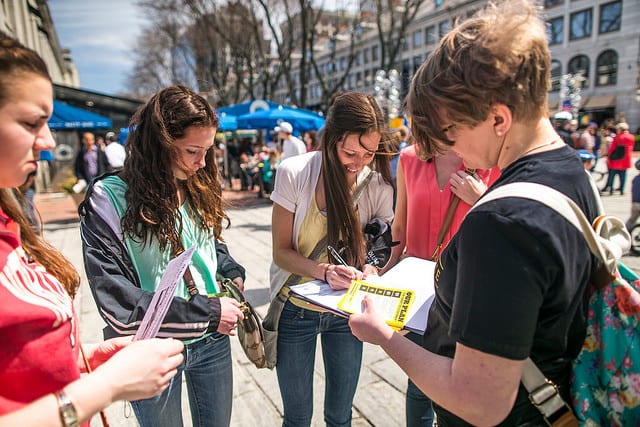 You will receive a confirmation email with the log-in information once you RSVP for the training. Thank you for taking your first step to fight corruption.