Apr
05
Apr 05, 2018
8:50pm EDT - 9:20pm EDT
Add to calendar
2018-04-05 20:50:00
2018-04-05 21:20:00
America/New_York
April 2018 Skills Training
<p>Together, we're going to fix America's corrupt political system. These <strong>monthly</strong> <strong>skills training conference calls</strong> are an opportunity for you to learn more about how to engage in the mission of the Represent.Us campaign and build the skills you need to start and lead your own chapter to make a difference while building a grassroots movement that will end government corruption once and for all.</p> <p><strong>Training for this month: Community and Coalition Building Strategies </strong></p> <p>The call is at 8:50pm ET / 5:50pm PT.</p> <p><img src="https://dv9jgklhamlge.cloudfront.net/wp-content/uploads/2014/09/petitioningboston.jpg?053245" alt="" width="640" height="427"></p> <p><em>You will receive a confirmation email with the dial-in information once you RSVP for the call. Thank you for taking your first step to fight corruption. </em></p>
Together, we're going to fix America's corrupt political system. These monthly skills training conference calls are an opportunity for you to learn more about how to engage in the mission of the Represent.Us campaign and build the skills you need to start and lead your own chapter to make a difference while building a grassroots movement that will end government corruption once and for all.
Training for this month: Community and Coalition Building Strategies 
The call is at 8:50pm ET / 5:50pm PT.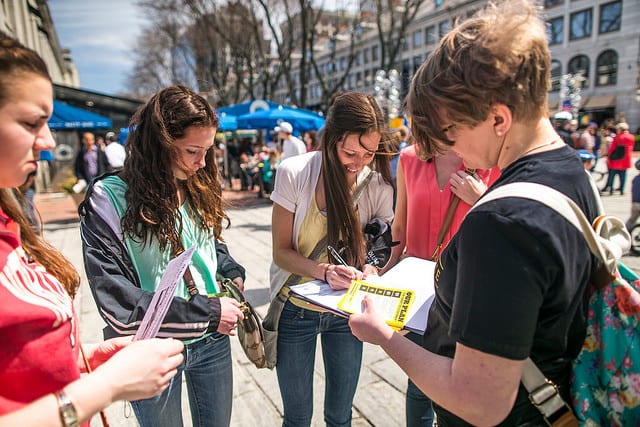 You will receive a confirmation email with the dial-in information once you RSVP for the call. Thank you for taking your first step to fight corruption.